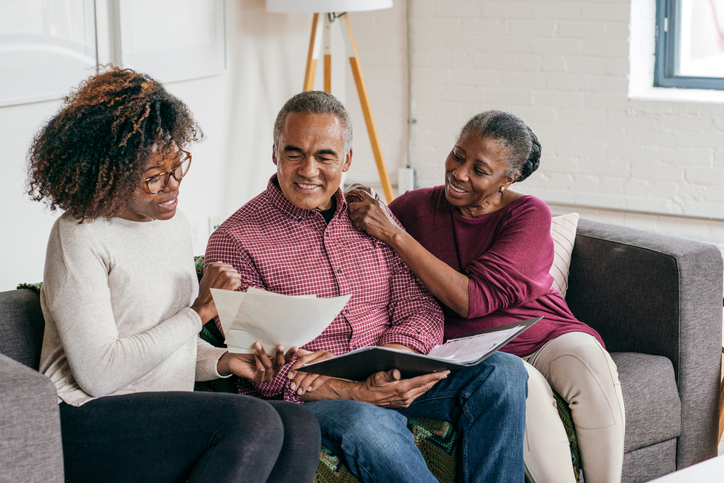 Understanding a Life Care Community Contract
You've worked long and hard for a secure retirement, and you want to make sure all of your needs continue to be met – no matter what the future holds. For many older adults, the ideal solution to achieve this balance can be found in a Life Care community, which is a type of continuing care retirement community or CCRC. These communities allow you to plan ahead for your future care needs now, giving a sense of stability and security for the road ahead. 
Each Life Care community will be different, and offer different care types and contract terms. Here, we will discuss the most common Life Care contract type and some of the key terms you may come across during your search.  
What is Life Care?
Life Care communities are a type of continuing care retirement community or CCRC that empowers older adults to plan for their future healthcare needs today. With Life Care, residents enjoy all of the amenities and services community living has to offer, including access to a  range of health services with a predetermined plan for payment as their care needs evolve.
When you choose Life Care, your contract typically includes an upfront entrance fee, as well as a monthly fee. One of the primary benefits of a Life Care community is that they allow you to remain in the same community to receive care while having already determined how that care will be paid for. Having everything in one place not only saves time and hassle of moving again, but for older couples with different needs, they can rest assured that they can live in the same community together, often just steps away.  
Should you ever need a higher level of support, it's always available and will be customized to meet your specific needs. And it will be paid for as predetermined in the contract type you choose. 
Why Choose a Life Care Community?
Life Care communities offer many benefits. They are especially attractive to those seeking predictable costs, long-term stability and access to community services and amenities that make life more enjoyable over the long-term. 
Older adults find that a Life Care community offers them the opportunity to take charge of their future. They get to decide now when and where they will live even if their care needs change. This not only removes this responsibility from family members or friends, but empowers older adults to make this decision now while they are in good health.  
Predictable Costs

. One of the advantages of Life Care is knowing your future medical expenses are accounted for at a predictable rate. This allows you to create a sound financial plan for the long-term.  
Long-term Stability and Security.

70% of older adults

will need long-term care at some point in their lives. Those who prefer to plan for the future today find Life Care to be a perfect option to ensure their needs are met. A Life Care contract is an effective way to guarantee you're covered as your needs change.
Lifetime Access to Community Services and Amenities.

Though accounting for your care needs is important, it's not the only consideration when selecting a community. The community you choose should also have activities and amenities that help you get the most out of each day. While services and amenities may vary over time, your access to them will remain included in your monthly fee. 
What Does a Life Care Contract Include?  
Each Life Care contract will be different, so be sure you understand the terms and conditions. Most communities offer a variation of the Type A contract, which is the most comprehensive, and the most popular, as it guarantees lifetime priority access to on-site care. 
Key Features of a Life Care Contract 
The Life Care contract includes an express or implied guarantee that the community will pay for health services at all levels of care specified within the contract which are not covered by public or private insurance benefits. This guarantee is generally made for the time period in which the resident resides in the community. Any changes to a resident's monthly fee will not be made based on the level of care provided. Contracts also generally include provisions for what will occur if a resident is ever unable to pay their monthly fees.  
Highlights of this contract include:
Access to all community amenities and services

One-time entrance fee that may be partially refundable

Lifetime priority access to advanced levels of care

Significant healthcare cost savings over open market rates
What is an Entrance Fee? 
Most Life Care contracts require an entrance fee. The entrance fee may also be referred to as a "buy-in" and is a one-time, upfront fee ranging anywhere from $40,000 to $2 million. According to AARP, the average entrance fee for such a community in 2022 was $402,000. 
The entrance fee is generally based on the size of residence chosen and the number of occupants. This fee covers ongoing community operating expenses and prepays some of the fees that come with offering lifetime access to continuing care. 
What is a Monthly Fee?
The monthly fee is a predictable monthly payment that covers a resident's community living expenses, often including access to many premium services and amenities, maintenance, security, landscaping, parking, scheduled transportation and some meals. The fees charged will depend on the type of contract, community and residence you choose. A Type A contract, which is an all-inclusive option, generally provides access to on-site health services at a fixed monthly rate. With a Type B contract, your fees will rise if you require care, but you'll receive a predetermined discount on the market rate. In a Type C contract, you'll be required to pay the market rate for the care services you need. While the type of contract that's right for you will depend on your personal circumstances, the benefit one gains is knowing how and where care will be provided and paid for in the future. 
Additional Fees
While most amenities and services will be included in your monthly fee, some may require an additional charge. This may include salon and spa services, reserved parking or other perks. Be sure to inquire about which amenities and services require an additional fee.  
Life Care at Abbey Delray South
The Life Care community at Abbey Delray South combines the best of resort-style independent living with the highest levels of expert care available at your fingertips whenever you need it. We're dedicated to helping every resident reach their wellness goals, and work to craft a custom plan that takes care of the body, mind and spirit.
If you'd like to learn more about the community at Abbey Delray South for yourself or a loved one, please contact us.