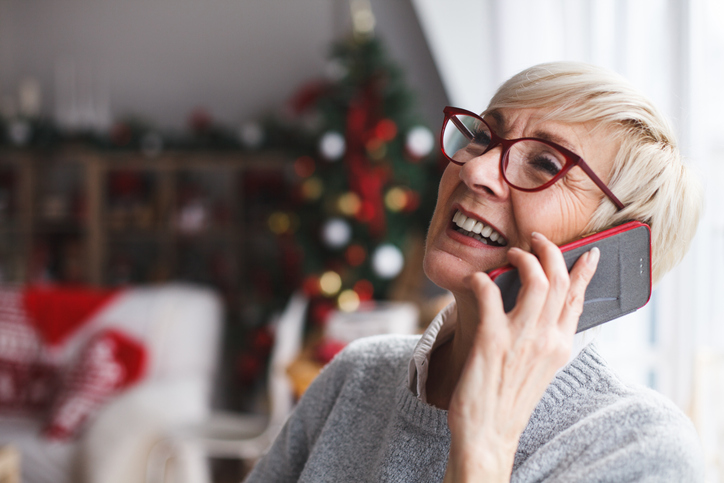 Understanding Why Holidays Can Be Difficult for Older Adults
For most of us, the holiday season is a time of celebration. We gather with friends and family to tell stories, drink and eat, and give gifts. Unfortunately, for many seniors the holiday season can be a difficult time of year marked by loneliness and depression. If there's a loved one in your life who might be having a tough time, we can help you understand why the holidays can be so challenging and provide you with tips to help keep their spirits high throughout the season.
Holidays Can Be Hard for Seniors
To better understand holiday depression among seniors, it's helpful to also understand how widespread the issue is. According to a survey conducted by AARP, roughly 31% of respondents reported feeling lonely during the holiday season. These feelings are not just limited to seniors who live alone, either. Even older adults who live in family homes may feel unable to fully participate in holiday functions, which can lead to depression and feelings of isolation. Additionally, prolonged loneliness has been shown to have detrimental health effects, with studies suggesting loneliness can have the same impact on mortality as smoking 15 cigarettes a day.
Why Seniors Experience Holiday Loneliness
The holidays can be difficult for older adults for a variety of reasons, starting with the loss of relationships. Perhaps a senior has had a spouse pass away or their children now live abroad. For other older adults, the acute nostalgia of remembering holidays past stirs up feelings of sadness. Sometimes there are financial reasons. Buying gifts, food and everything else on a fixed income can create stress, leaving some seniors feeling overextended. Beyond financial limitations, the lack of mobility may affect an older adult's enjoyment of the holidays. Tasks that used to be enjoyable like holiday shopping and traveling, may now seem overwhelming due to physical limitations
3 Tips for Helping a Senior Deal with Holiday Loneliness
When it comes to alleviating the loneliness felt by seniors, there are a number of ways you can help lift their spirits during the holiday season.
Make a Connection and Listen
Seniors don't always have ample opportunities for meaningful conversation. It's important for you to reach out to the seniors in your life regularly, whether that's an in-person visit or even a conversation over video call using Zoom or FaceTime. Make a habit of it and do what you can to make the older adult comfortable being honest about their feelings. That's the only way you're going to understand what these seniors may be going through and what you can do to help.
Get Out and About
Any older adult cooped up at home is going to be vulnerable to feelings of loneliness and isolation. The simplest way to solve that is to give the isolated individual a reason to get out and about. Invite them out for dinner, take them shopping or have them help you decorate your home for the holidays. Whatever you think might help that senior feel positive and engaged.
Celebrate Traditions, Both New and Old
The holidays are all about tradition, but not all traditions endure through the years. Sometimes reminiscing on the cherished memories of holidays past can worsen the feelings of sadness a senior is experiencing. If your family has holiday traditions that have faded into the past, consider bringing them into the present to appeal to your elder family members. At the very least, think of how you could tie elements of past traditions into your own new or existing traditions. Try to be as inclusive as possible and find activities that everyone can take part in.
How a Community like Abbey Delray South Helps Seniors Fight Loneliness
At Abbey Delray South, every resident understands what it means to be part of a community. Our residents all are free to choose how to live each day, and that often includes embracing the opportunity to forge new friendships. The people are what make this such a special community to call home and that includes the members of our team, who are passionate about providing for the needs of our residents and ensuring they can take advantage of the life-enriching services and amenities that are available throughout the community.
If this sounds like a community where you or a loved one could thrive, please don't hesitate to contact us. Our dedicated team is ready to answer any questions you have and show you what sets our community at Abbey Delray South apart.