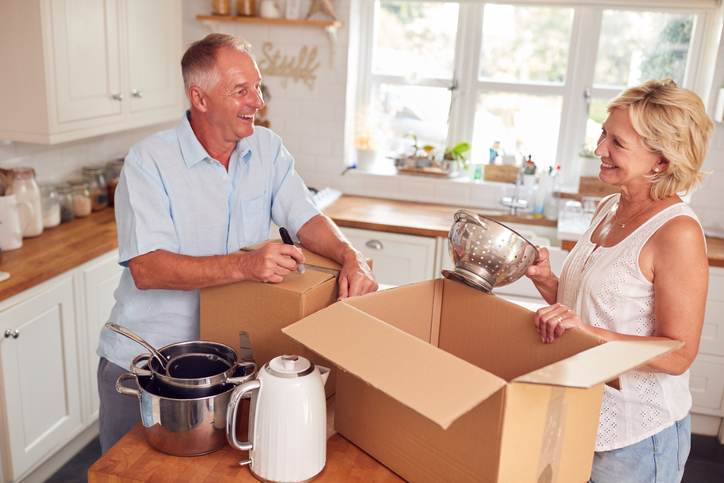 Understanding the Emotional and Physical Process of Moving to a Senior Living Community
Diving into a new chapter in our lives can be exhilarating, but also poses both physical and emotional challenges. This is especially true for older adults moving from a residential home to a senior living community. Often, this move necessitates a paring down of one's belongings in order to accommodate the new space. Leaving a beloved family home can also bring with it many emotions, ranging from grief to nostalgia. 
Whether you or your loved one are already planning a move to a senior living community or just exploring your options, it's critical to understand the physical and emotional journey ahead of you. Being prepared can help ease your transition in the months and years ahead as you begin this next phase of your life. 
The Challenges of Moving to A Senior Living Community   
Moving is a difficult process at any age. We are uprooting the familiar for the unfamiliar, and that can lead to a heady mix of both stress and excitement. There are numerous benefits to moving to a senior living community like Abbey Delray South, of course, ranging from predictable costs, opportunities for socialization, and access to health services. 
However, as with any move, there are challenges to making this transition, too. These include the difficult process of downsizing, staging and selling your home, and even making adjustments to your monthly or ongoing expenses to account for your new lifestyle. 
What Am I Going to Do With My Belongings?
Ahead of your move, you'll want to have a firm understanding of your Independent Living floor plan. Your retirement community should have an onsite move-in coordinator who can help you with the logistics of your move, including answering questions and giving you suggestions on what to bring and what you may be better off donating or selling. 
If you were to ask our move-in coordinator about the most common questions they receive from potential residents, "What am I going to do with all of my stuff?" would be at the top of the list. The truth is most residents need far fewer items than they think they do. 
This is because residents can take advantage of on-site dining venues, housekeeping services, and other amenities that reduce the number of personal belongings needed.
How Am I Going to Sell My Home?
Oftentimes incoming residents are preparing to move into the community but have not yet sold their home. With the current housing market, though, homes are selling quickly. Sometimes this means that residents must be housed in temporary apartments before customizations to their new residence are complete.
Be sure to pay attention to the closing dates in your community's contract and use this to plan when to put your home on the market. This can help reduce your overall stress and anxiety. 
How Will I Need to Adjust My Monthly Expenses?
Financial considerations are always an important part of the moving process, especially when transitioning to a markedly different living arrangement. You will want to have an adjusted budget that conforms to your new lifestyle.
As many communities charge a single fee each month covering most expenses, you may find it easier to keep track of financial matters. In addition, many "surprise" expenses for things such as maintenance and healthcare concerns may no longer be as relevant or pressing due to the nature of this style of living. 
The Physical Process of Moving 
Ahead of your move, you will want to prepare yourself both mentally and physically. To start, make a timeline and checklist of the tasks that need to be completed. You can also ask the move-in coordinator at your retirement community if they have a checklist like this that you can use.  
Before the Move
Ahead of your move, work closely with the move-in coordinator at your retirement community. They can often recommend moving services that specialize in assisting older adults in the unique challenges involved in downsizing, packing and moving from a large residence to a cozy suite. In addition, you may want to get help from adult children, friends or family who can act as familiar and supportive faces to assist you during this transition.
The Day of the Move
On the day of the move, make sure your moving company, move-in coordinator and any friends and family understand your timeline and expectations. Prepare to instruct where furniture and boxes should be placed in your new home, and have a plan for what to do with any items that you may have overpacked that don't actually fit in the space. While your community may have extra storage space available, many do not, so inquire ahead about this possibility. 
After the Move
After you are moved in and your items are unpacked, go through your moving checklist one more time to ensure everything is completed. Often, when planning a move, new residents forget that they may need someone on hand to set up their electronics, including wi-fi settings, computer hookups, and other technical troubleshooting. While some communities may have a person on-site who can assist, it may be worth hiring a professional or asking an adult child or relative to help with this final step. 
The Emotional Process of Moving 
Throughout the moving process, be aware of your emotional state, and allow yourself to process these feelings and give yourself grace. Emotional well-being is a vital part of our overall health, and should be treated as such. 
Embrace Your Emotions
In the days and weeks before, during and after your move, you may find yourself struggling with emotions ranging from fear and anxiety to joy and anticipation. Embrace these feelings, even the negative ones, as they are completely normal. It's natural to feel both sad and excited about ending one phase of your life and entering another. 
Give Yourself Time to Adjust
As you settle into your new home, rely on your existing support system for help, and begin cultivating new friendships. Reach out to friends and family and discuss how you feel. It can take six months or more to adjust to a new home or environment and create a new set of friends. Give yourself permission to take your time and go at your own pace. It's a big transition! 
How Abbey Delray Makes the Move-In Process Seamless
The moving coordination team here at Abbey Delray South is here to help residents make a smooth and successful transition to our community. If you're looking for an independent and sophisticated lifestyle in a lush, tropical setting, come and visit us in Delray Beach, Florida. Our community offers upscale services, amenities and activities that allow older adults to live an active and connected life.  
Discover more about what life is like at Abbey Delray South.