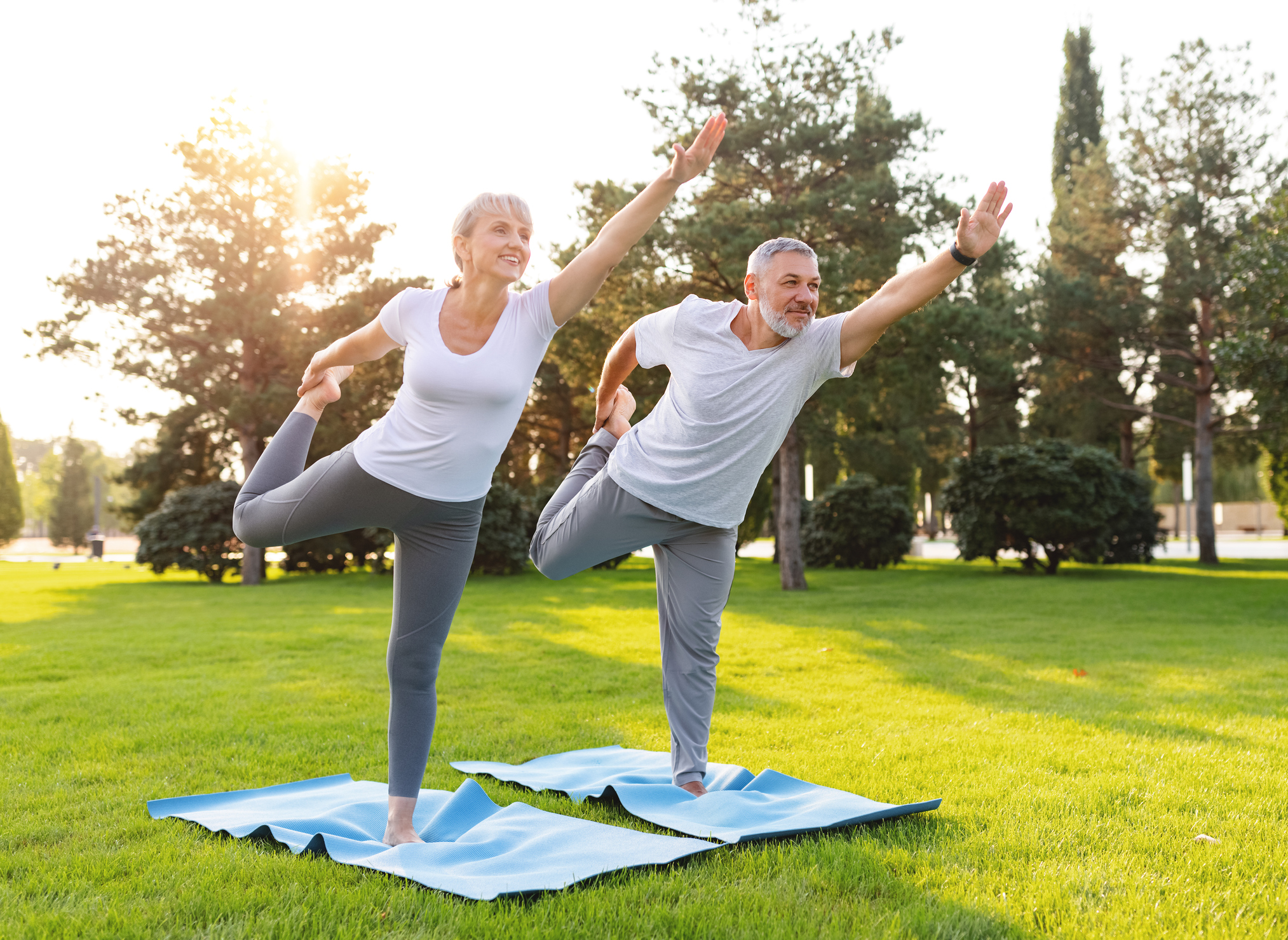 Tips for Improving Balance as an Older Adult
Investing in your physical wellbeing will pay dividends throughout life. This is especially true when it comes to balance, an often overlooked but critical part of our overall health. Focusing on improving balance and flexibility is critical to helping us maximize energy and prevent potentially dangerous falls as we get older. Here are some of the reasons balance is so important, and tips on how you can improve it. 
The Importance of Balance for Older Adults
Focusing on balance has a holistic benefit. From increased self-efficacy in fall prevention to improved overall physical function, better balance provides a bevy of benefits. 
1. Increased Independence
When you prioritize your balance, you require less assistance in daily activities and have fewer risk factors for falling and other injuries. This leads to more independence in your daily life and less fear of hazardous incidents.
2. Reducing Fall Risks
Falls in older adults can be particularly dangerous. One in four American adults over the age of 65 fall every year, and falls among older adults are the leading cause of both fatal and nonfatal injuries in that age group. A fall can result in fractured bones, hips, and head injuries, all of which have a greater risk for additional complications as we age. Balance exercises greatly reduce the risk of falling and make you better able to prevent a fall. 
3. Greater Mobility and Endurance
Balance exercises also help build strength in older adults, which leads to greater overall mobility and endurance. The ability to stay physically active for longer periods makes it easier to enjoy beloved activities.
Assess Your Fall Risk Factors  
As you build your balance exercise strategy, you want to have an idea of your current abilities and areas of improvement. At Abbey Delray South, all residents have access to our VSTBalance and VirtuSense programs, which are automated fall-risk assessment tools that utilize artificial intelligence with machine vision to identify fall risk indicators.
The assessment only takes a couple of minutes, and produces a report that helps residents pinpoint early deficits in balance, gait and function that can be addressed with treatment plans. These plans will feature engaging biofeedback activities to help mitigate falls and enhance mobility.
This kind of risk assessment and the incorporation of personalized balance exercise plans has been shown to:
Minimize post-acute care falls by 73%

Improve mobility for residents by 85%
Those who aren't able to access a program like this can speak to a healthcare professional about alternatives for knowing their risk factors.
Tips to Improve Your Balance
So now that we know why improving your balance as an older adult is so important, let's talk about how to do it. Here are some tips to make improving your balance part of your everyday routine. 
Regular vision checks.

Seeing double or having an inaccurate prescription can contribute to loss of balance, so getting your eyes checked regularly is important. 
Take yoga classes.

Yoga is excellent for building strength and balance and has additional mental health benefits, as well.

At Abbey Delray South,

we offer a wide variety of fitness classes to help support your balance and physical strength. 
Review medications.

Sometimes, the way medications interact with one another can cause dizziness or contribute to reduced stability. Other times, you may experience side effects that impact your balance. Review your medications with your doctors to ensure these issues are properly managed. 
Do daily balance exercises.

A few simple movements each day can help build your body's balance.

Consider incorporating these balance exercises

into your daily routine. Always be sure to check with your doctor before starting any new exercise regime. Many exercises can be modified based on your level of mobility.
How Abbey Delray South Prioritizes Your Health & Wellness
At Abbey Delray South, we understand that prioritizing your physical wellness is only part of the equation to living life to the fullest. From delicious dining venues to gym classes and individualized wellness programs, we are dedicated to our residents' health. Residents also get access onsite to VirtuSense and VSTBalance, a rehabilitative technology that reduces falling risks by improving balance and increasing mobility through biofeedback activities. 
Contact us today to schedule a tour or learn more about living at Abbey Delray South.