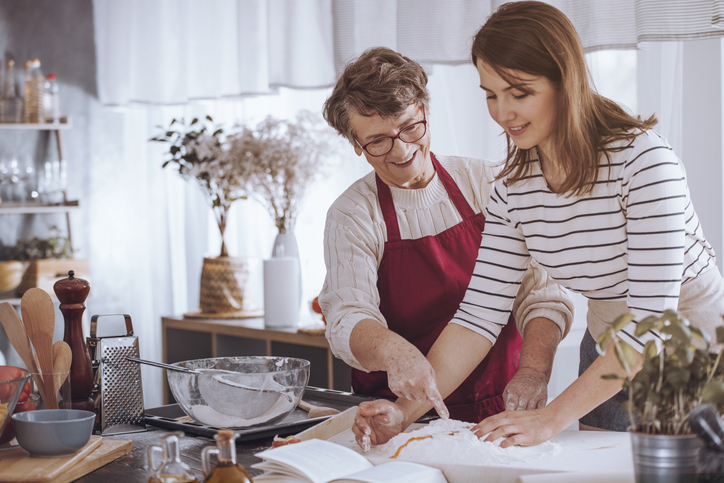 How to Host a Holiday Gathering at a Senior Living Community
If you've recently moved to an independent senior living community or are considering transitioning to one, you may be wondering how you can keep holiday traditions alive in your new home. Or, perhaps your children and grandchildren have mixed feelings about celebrating somewhere besides the traditional family home in the seasons to come.
However, you and your family may be surprised to learn that a senior living community can be a great place to host a traditional holiday party (and may even be a little easier than hosting one in your prior home). Here are some suggestions on how to plan the ideal holiday gathering at your senior living community. 
Prepare (or Reserve) the Perfect Space 
Now that you've moved to a community with shared spaces and amenities, you have several options for where to host your party. 
Host in your home as you always have.

Depending on the size of your holiday party, your new residence will serve perfectly well as a gathering and entertainment space. You can cook in your full kitchen, have a meal catered in or ask each of your loved ones to bring a special dish. If you need help rearranging furniture to make more room for your guests, you can give the community maintenance team a call to help. 

Reserve a private dining room or party room

. Many senior living communities offer private dining rooms or party rooms that can be reserved for large gatherings. They can often accommodate many more people than you'd expect, too. It's not unusual for senior living communities to host holiday dinners or reunions with 50 or more guests. Check with a team member to see what capacity your gathering spaces have. Some communities may have auditoriums where you can project a family slideshow,

enjoy board games with grandchildren

, play music or even have speeches and performances. Meals can be catered from on- or off-site, too. 

Enjoy a celebratory meal at one of the on-site dining venues.

The most stress-free option of all is to make a reservation at one of your community's

on-site dining venues

. This will ensure there are plenty of options that serve everyone's needs and tastes, and it eliminates the task of cleaning up after the guests have gone home. 
Keep Your Holiday Traditions Alive (or Create New Ones) 
You can still keep plenty of holiday traditions alive in your new space! Invite your family to dress your tree with you and set out beloved decorations. Bake cookies with your grandchildren, or put together a homemade gingerbread house. 
There will be plenty of holiday displays and activities in your community that you can enjoy together as well. Stroll the grounds with your loved ones to view seasonal light displays and decorations, attend a community-led holiday party, on-site concert or other scheduled entertainment option. Wherever you reside, the most important aspect of this season is finding ways to spend more time with family and friends.
Reserve Guest Spaces
If you are inviting out-of-town guests, living in a senior community offers additional perks. Instead of booking your guests into a hotel, ask a team member in your community about reserving a guest suite on-site. This allows you to spend more time with your loved ones by eliminating the need for them to commute in before or after the party. 
Prepare for Your Guests
Another perk to hosting a gathering at your community is that you can arrange for a cleaning service to arrive before or after your party. This is a commonly available service, and will mean less stress and mess for you. You can also book an appointment at an on-site salon to ensure you're looking your best ahead of the party!  And it can all be done without setting foot outside of your community. 
If you decide that hosting a gathering isn't something you want to tackle this year, your community can still help you celebrate the season. Ask to arrange for a car service for a visit to family and friends at their homes, or to an off-site dining venue or other party space. 
All in all, your enjoyment of the holidays doesn't have to change drastically once you move to an independent senior living community. In fact, the holidays here can be even more enjoyable and stress-free than you ever imagined. 
Celebrate this Holiday Season at Abbey Delray South
Moving to an independent living community is just the beginning of your next chapter. Enjoy a carefree, independent lifestyle all year long at Abbey Delray South. We provide our residents with a comfortable and connected lifestyle supported by resort-style amenities and a calendar of life-enriching programs and activities.  
Come see our newly remodeled garden homes for yourself with a personalized tour, and discover what life could be like here. Contact us to learn more.