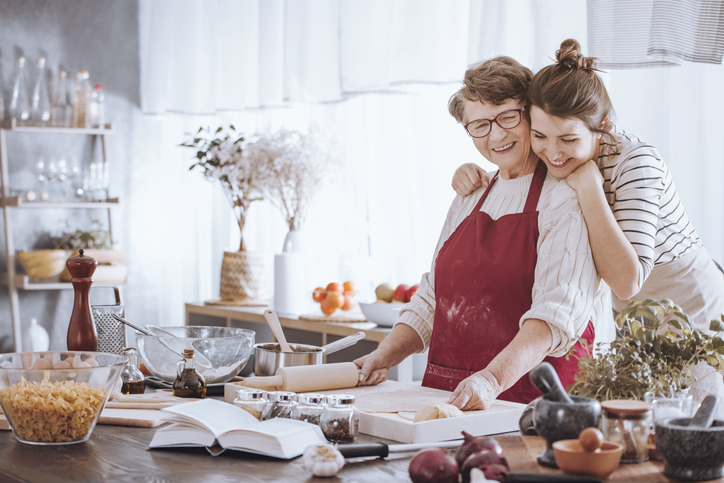 Healthy Holiday Eating Tips for Seniors
The holidays are always a tough time for keeping nutritional needs and dietary restrictions top of mind, but for older adults it can be even harder. Often, holidays and overindulgence are synonymous by way of tradition. If you need to scale back this year due to health conditions or simply because you're paying more attention to what you eat, here are some classic holiday traps to avoid and a few ways to sneak a little more nutritional value into your holiday meals and gatherings.
Obstacles to Healthy Holiday Eating
There are always obstacles to healthy eating, but during the holidays when you're confronted with Christmas cookies and holiday recipes galore, it can be even harder. Here are a few red flags to watch for.
Social Pressure
Being surrounded by loved ones sharing in laughter and food is all about knowing your limits. No one is telling you to say no to the third cookie your granddaughter offers, but maybe passing it off to another family member when she isn't looking is the best move. While social pressure can be difficult to navigate when it comes to keeping your health top of mind this time of year, there are ways to use the atmosphere of togetherness to your advantage. Recruit a few family members or loved ones to help be your healthy food warriors. They can make sure the green stuff gets on your plate and play interference with your biggest sweet-offering offenders. 
Christmas Cookies Everywhere
If you've got a sweet tooth, this time of year is both a blessing and a curse. Everywhere you look, you're bound to find a sweet or three to be tempted with. When you're trying to keep your health on track, the overabundance of sugary goodies can make that mission difficult. We all know that banning yourself from enjoying the treats entirely is a plan built to backfire, so how can you handle the mountain of gumdrops and icing without betraying your nutritional needs? Set yourself a mental limit — something that feels reasonable but won't overthrow the foundation you've built. Keep in mind that sugar is addictive and try to have some dishes with natural sweetness (like medjool dates) on the sideline waiting for you when the cravings kick in. 
Top 3 Tips for Healthy Holiday Eating
Even when surrounded with all the high-calorie, unhealthy-but-delicious food the holiday season is famous for, it's important for older adults to pay attention to their intake. A well-balanced diet offers benefits that go far beyond the taste buds, and those health boosting pluses are a must for aging adults. If you find the holiday season hard to handle when it comes to sticking to healthy eating, here are our top tips to keep you and your well-being on track. 
Assemble Your Allies
Never underestimate the power of having people on your side. Family members and friends who are willing to go for broccoli florets with you can be the difference between enjoying your health holiday and feeling like the odd one out. Sharing your nutritional goals with one or two family members is sometimes enough to do the trick and keep everyone mindful. However, if you find yourself unsure of who to choose or a little anxious about rocking the boat, letting the whole guest list know ahead of time that you're watching what you eat can alleviate the pressure. 
Be Present 
A lot of holiday overeating occurs at the hands of a busy schedule and a wandering mind. During this busy time of year, keeping your health a priority can be as simple as focusing on mindful eating. Focus on your hunger cues and know when to stop to avoid overdoing it. Likewise, if your body is craving some greens, don't settle for a tree-shaped sugar cookie. Listen to what your body tells you it needs and give it what it's asking for.
Ask for Alternatives at the Holiday Meal
If you can't find great balance outside of the holiday gatherings, sometimes asking for alternatives is the best thing you can do. If your family sets the menu ahead of time, use that planning period to ask for what you need, and if multiple people bring dishes, cook your favorite healthy dish to bring along for all to enjoy. There's nothing wrong with introducing new food choices and creating new, healthier traditions to celebrate with your family and loved ones. Asking for more vegetable-focused side dishes, or if you can start the evening with a salad rich in leafy greens is a great way to keep your health in mind without giving up the love and celebration that the holidays bring.
How Retirement Communities Help Promote Healthy Eating
Living in a retirement community can support prioritizing your health during the holidays (and year round) in a variety of ways. At Abbey Delray South, we spend time with each of our residents understanding their wellness goals and how we can best support them. We have fitness, nutrition, and wellness experts available to keep you on track. We also offer a variety of healthy eating options with our in-community dining venues. 
Surrounding yourself with the right resources and support system is easy with a senior living community that cares, and having those resources at your fingertips makes it even easier to stay on track with your goals when the holidays make it tough. 
The holidays are best enjoyed like everything else in our golden years — well-balanced and filled with love.