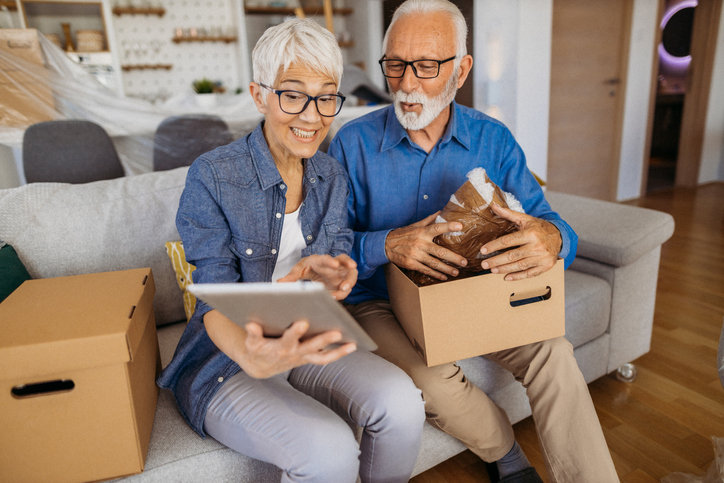 Downsizing Tips for a Move to an Independent Living Community
If you are moving to an independent senior living community soon, you will have many tasks to complete, including staging your home for sale, downsizing and packing. Many older adults moving to independent living are transitioning from large family homes to cozier cottage or apartment settings. So while they may have experience selling a home and making a move, the process of downsizing may be a new challenge. Downsizing can be an overwhelming and emotional process as you sort through items and decide what to take to your new home. Here, we have gathered a few tips and strategies to help guide your downsizing process.
Set a Plan With Realistic Deadlines 
First step to downsizing is to create a plan with realistic deadlines. It is unlikely you'll be able to finish everything in one weekend, or even one week, so don't put this task off until the last minute. Give yourself at least two to three months to complete the downsizing and packing process. Set specific dates to finish going through each room. Remember to plan for mental breaks or days off in your timeline.  
If going through your items feels too overwhelming, enlist the help of friends and family. Or, you can hire a personal organizing service that can help you gain some objectivity in what to keep and what to toss, donate or sell.
Start Downsizing Rarely Used Rooms First
As you downsize, ensure that you have a good idea of your new home's square footage and other relevant measurements. For example, your current home may have multiple bedrooms, an office space, attic, plenty of storage closets and a garage while your new home may have one or two bedrooms and limited storage space. 
This is why it's key to start downsizing in the rooms you won't have in your new space. Without a garage, attic or those extra bedrooms or closets, you will need to dramatically downsize these areas first. Completing these rooms first can also be less stressful, as many of the items here will be little or rarely used.   
Keep, Donate, Toss or Sell?
As you go through your belongings, start to organize them into four piles: keep, donate, toss and sell. Evaluate items for their utility in your new residence. Remember that your new lifestyle will be more relaxed, and you'll have access to more on-site amenities and services that will reduce the need for many items. Senior living communities often provide on-site dining venues, cleaning and maintenance services. Be realistic about how many pots and pans or cleaning supplies you'll really need. Lighten your packing load by eliminating these unnecessary items from your list by putting them in the donate, toss or sell piles.    
Downsizing is also a good time to give your family cherished heirlooms. Privately sort through these items before assigning new ownership to family members. Once you've finalized your decision, inform family members so they can pick up the items, helping to declutter your space.
Lightly used items still in good condition that aren't worth selling or passing on can always be donated. Local thrift stores and donation centers are always happy to take furniture, clothing and accessories and some donations are tax deductible.
Focus on What You Are Gaining
As you downsize, it's natural to feel a strong mix of emotion about saying goodbye to your family home. Rather than dwelling on the past, however, try focusing on the freedom you'll gain by moving to a senior living community. Less maintenance, cooking, cleaning and access to so many on-site activities and events will give you more time for your hobbies. You'll have many opportunities to meet like-minded peers who are at a similar stage of life. While this process may be stressful, there's an exciting adventure waiting for you on the other side! 
Explore Independent Senior Living Options at Abbey Delray South
Downsizing and moving is easier when you have an exciting destination to look forward to. Let Abbey Delray South be that destination for you. In our beautiful Delray Beach community, residents get to create engaging retirement lifestyles that suit their passions and pleasures. 
 Contact us or schedule a tour to see what living here is like.