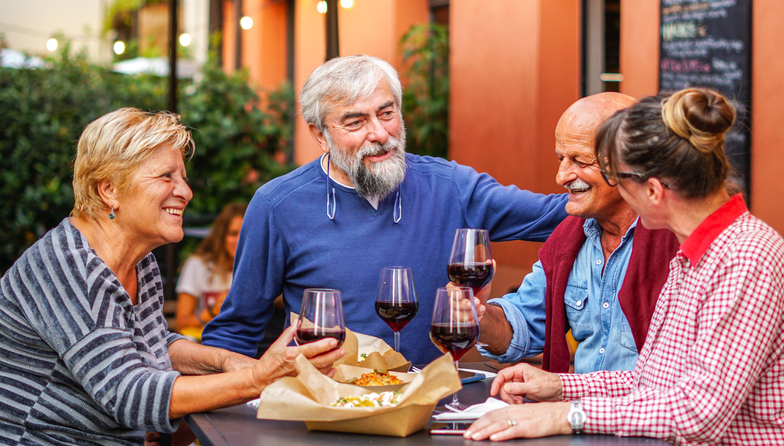 Checklist for Comparing Life Care and Senior Living Rental Communities
Planning for retirement is full of significant decisions that will prepare you for an enjoyable next chapter of your life. One of these decisions is whether you should live in a Life Care community like Abbey Delray South or a rental community. Discover more about the similarities and differences of these two types of senior living arrangements so you can decide which one is the right choice for you.  
Life Care vs. Rental Community
A Life Care community like Abbey Delray South offers residents lifetime access to housing, on-site healthcare services and amenities in return for an entrance fee and predictable monthly fee. If a resident requires a higher level of care offered on-site at any time during their stay at a Life Care community, they do not need to worry about paying out-of-pocket rates for it. Their monthly fee remains predictable.  
By contrast, a senior living rental community offers month-to-month leases for older adults that  are not inclusive of additional healthcare costs. Should your healthcare needs change, you will need to pay market rates for those services. 
A Life Care Community May be Right for You if You…
Are planning ahead for lifetime care.

With a Life Care contract you are guaranteed housing and priority access to higher on-site levels of care, regardless of changes in your health condition. You won't be charged based on the need for additional care. 
Desire standardized monthly payments.

A Life Care community provides the reassurance of paying a predictable fee every month, even if your healthcare needs change. 
Want protection from paying high market rates for healthcare services

. The market rate for healthcare services can rise at any time. In a Life Care community, you continue to pay your contracted rate even if the market rate changes or your healthcare needs increase.
A Rental Community May be Right For You if You…
Do not want to pay upfront fees.

Entrance fees can be significant, depending on the community chosen. While many adults who choose Life Care think about it like planning ahead to pay for healthcare costs now instead of later, for some this may not be financially feasible. 
Already have a solution in place for long-term care

.

70% of seniors

will need a high level of long-term care or services in their retirement years, and in most cases, Medicare doesn't cover long-term care. Do you have a plan in place to pay for long-term care? 
Prefer short-term housing commitments.

In a rental community, you are free to stop renting a unit as long as the appropriate notification is provided. This may be a good housing option for those who do not want to commit to a long-term housing option. 
Comparing Life Care and Rental Communities
As you evaluate specific Life Care communities like Abbey Delray South and rental communities, here are some questions you should ask at each to compare the value they offer:
Is the location convenient to loved ones, places of worship, shopping and entertainment?

Does the community provide amenities that are important to you, like a pool, specific social club, and on-site dining? 

Are there any other on-site conveniences such as a salon, convenient parking, health services, fitness center, computer room, etc?

Is a continuum of care offered so you can age in place? 

Are services like housekeeping, personal laundry, linen service, transportation and emergency call services available? Are there additional fees for any of these services? 

Is there an entrance fee? How much is it?

What are the monthly fees? What do they actually include? 

What are the terms and conditions for your contract or lease?

What happens when residents run out of money or encounter financial difficulties? 

How recently was the building remodeled? Are there plans for renovations?

What social activities are available to residents?

Have a meal at an on-site dining venue, if available, and report your thoughts on the menu choices, the presentation, taste and quality of the food.
Why So Many Seniors Choose Life Care
Seniors who are interested in long-term planning for their future health needs often prefer Life Care communities over the unpredictable healthcare fees and lease options of rental communities. Healthcare costs rose by 14.5% in 2022 alone, and that trend will continue. Women retirees today will spend 15% of their total income on medical costs, while men will pay about 9%. However, with a healthcare increase of just 2% per year, a 55-year-old couple retiring in 2022 could expect to spend nearly one million dollars in medical expenses in their lifetime.  
Life Care communities offer a rich, stable quality of life, maintenance-free living, predictable costs and endless social opportunities to keep older adults engaged and active in their retirement years. Who wouldn't want to choose care that lasts a lifetime?  
Explore Life Care Options at Abbey Delray South
Retirement should be about leisure, stability and enhanced quality of life. At Abbey Delray South, we understand that prioritizing your health is only part of the equation to living life to the fullest. From delicious dining venues to fitness classes and wellness programs, we are dedicated to making our residents' lives truly exceptional. Contact us to learn more about what a Life Care community can offer you, or schedule a tour to see it for yourself.