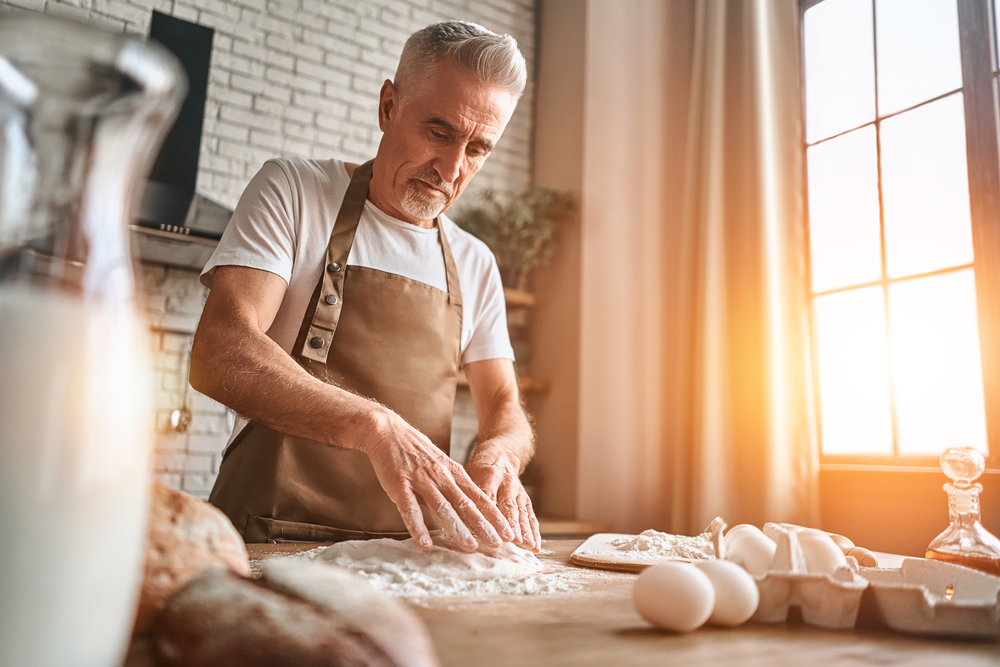 The Best Hobbies to Start in Retirement
Once the kids are well into building their own lives and you no longer have a full-time career to manage, many seniors wonder, "What's next?" After all the projects are done and the last drawer or closet is organized, many seniors choose their time in retirement to learn a new hobby or dive deeper into an earlier interest. But now that you can spend more time pursuing your retirement hobbies, where should you begin? And what are the benefits of taking up a hobby in your retirement years?
Hobby Health Benefits
Having a variety of hobbies in retirement can help you stay physically, mentally and socially active, and may even help you live a healthier and longer life. Some benefits of hobbies include:
Relieve stress: Doing a pleasurable activity can help you relax and take your mind off other things in your life.
Find a purpose: The more you learn while doing your hobby, the more satisfied you'll be with your progress and have a sense of accomplishment. And a hobby can give you something to look forward to doing.
Explore: A hobby lets you enjoy the process of learning something new without feeling discouraged if you're not good at it right away. It can also encourage you to venture out of your comfort zone by picking something that challenges you in new ways.
Discover: Until you try something, you're never really sure what you can do. A hobby can help you discover something you're good at.
Earn additional income: You could find you're good at something others will pay you to do.
Improve self-confidence: Learning something new and pushing your limits to achieve things you might not have thought were possible can give you a feeling of being able to do anything.
Invite new perspectives: By taking up a hobby, you're certain to be exposed to new opinions, ideas and ways to look at life. You could even make new friends.
Improve memory: Craft hobbies like sewing and beading can improve your focus to help ward off depression and could protect your brain from some types of memory loss.
Get excited: Doing something because you actually want to do it can create excitement that can carry over into other areas of your life.
How to Choose a Hobby
If you've never had a hobby, it can be overwhelming to choose one. To get started, consider the things you enjoy, things that interest you, and perhaps things you would like to improve upon. These questions might also help you narrow down your retirement hobby choices:
Do you enjoy competition?
Do you prefer doing things alone or with others?
Is there a particular skill you would like to develop?
Are you getting enough physical activity in your daily life?
Are there things you enjoyed doing in your childhood that you would like to revisit?
In what ways do you want your hobby to challenge or change you?
How much time can you devote to your new hobby?
How much money can you invest in your new hobby?
What types of people would you like to interact with?
What kinds of benefits would you like your hobby to provide?
Here are some retirement hobbies that can benefit you physically, mentally, emotionally, socially, interpersonally and creatively.
Physical: Fishing, hiking, camping, swimming, yoga, or martial arts can increase both your heart rate and brain function. They can also lower blood pressure, help with weight loss, build muscle, strengthen bones, and increase your overall energy.
Mental and emotional: Doing activities you enjoy like gardening, listening to music, painting or drawing, cooking, coloring, photography and playing a musical instrument are all easy ways to improve your mental health and overall emotional well-being.
Social and interpersonal: Hobbies like exploring new restaurants, seeing movies, discussing philosophy, trying new technology, playing music, playing games, and investing in real estate are a great way to socialize and meet new friends. Social hobbies facilitate bonds with others and add another layer of support to your life serving to reduce stress.
Creativity: Writing, hand lettering or calligraphy, cake or cookie decorating, soap making, quilting, crocheting or knitting, and jewelry-making are hobbies that inspire you to tap into your creative side.

Hobby Thought Starters
If you're looking for some ideas for retirement hobbies, here are a few suggestions to get you started:
Travel: Stay close to home or visit faraway places. Once you pick a spot, there are lots of online resources to help you find things to do, sites to visit, and places to stay that can accommodate a variety of budgets.
Volunteer: Whether once a week or every day, volunteering can enrich your life while making a difference in the lives of people in your local community. Check with your local library, school, hospital or other nonprofit organizations.
Arts and crafts: Try a new artistic and creative endeavor or perfect ones you've enjoyed all your life. Some options include painting, jewelry making, knitting, quilting, pottery making, woodworking and stained-glass making.
Music/theater/dance: If you want hands-on involvement, call your local community center or theater to see what opportunities exist. For something less involved, start a club with your friends to see a weekly/monthly performance.
Write: Whether it's fiction, poetry, romance, nonfiction, memoirs or daily journaling, writing is a good way to reduce stress, explore new ideas and express your personality. To stay connected to others while improving your skills, consider attending writing groups and workshops.
Clubs/associations: There are several local and national clubs and associations that can provide you with fun and engaging activities. You can also start a new club with your friends.
Exercise: Low-impact exercise like walking, swimming, yoga or tai chi is a great way to get or stay in shape, and you can do it with friends or on your own.
Get cooking: Explore cookbooks, magazines or online cooking videos for ideas and inspiration, and then try some recipes that appeal to you. You can even surprise neighbors with baked goods.
Teach: Adult education programs are frequently looking for part-time evening instructors. You can teach a younger generation about your previous profession or one of your hobbies.
Family connections: Invite your family members over more often or offer to babysit your grandchildren so your kids can have some time to themselves.
Garden: In addition to providing nutritious veggies and fruits for your dinner table and beautiful flowers to decorate it, gardening can decrease your risk of dementia, boost your mood and provide aerobic exercise.
Go outside: Go birdwatching; learn about plants; go on a nature hike; or participate in trail, creek and lake cleanups.
Learn another language: The brain stays sharper when it's challenged. Consider learning the language of your ancestors or some phrases that will make foreign travel easier.
Your family tree: Genealogy is a popular hobby for people of all ages, and it doesn't require much physical activity. Learning not just the names of family ancestors but also their stories and connections to history can lead to some wonderful discussions with family members of all ages.
Abbey Delray South is a Hobbyist's Haven
At Abbey Delray South, our full-service community gives you the time and opportunity to more fully explore your hobbies and other interests. Plus, we offer the security of on-site care if you ever need it. While life's been different recently, the residents of Abbey Delray South feel safe and are staying active and engaged during this unique time. To learn more about everything we have to offer, fill out the form at the bottom of this page.