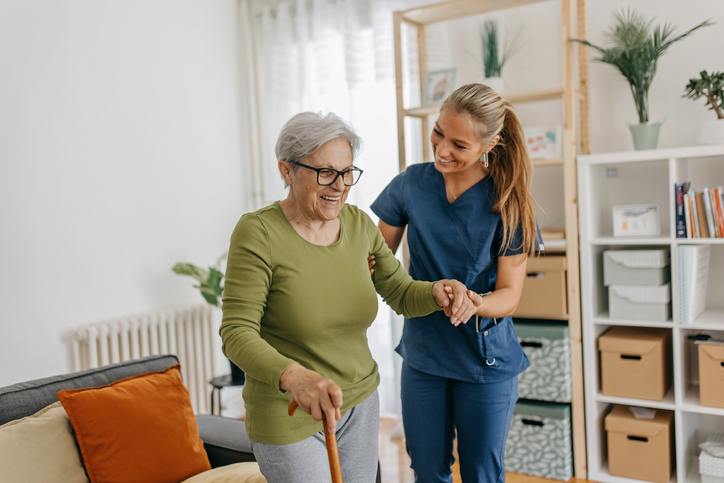 Assisted Living vs. Nursing Homes: Common Questions
Understanding the difference between senior living communities can seem confusing or overwhelming. Terms like "assisted living," "skilled nursing," "senior living" and "nursing homes" are often used interchangeably, creating uncertainty about how these options may differ. 
Fortunately, we're here to help you get to the facts. This is the essential information you need to know about different senior living options, and what each community offers its residents.
What is Senior Living?
"Senior living" is an all-encompassing term used to describe the many forms of retirement communities, including independent living, assisted living and skilled nursing. Senior living communities and retirement communities refer to the same living situations, and can be used interchangeably.
Senior living communities offer many benefits for older adults, including increased opportunities for social interaction and the ability to lead a more active lifestyle than at home. At the same time, residents have easy access to premium health services, allowing them to receive only as much assistance as they need to continue living as independently as possible.
What is Assisted Living?
Assisted living is a residential setting designed for older adults who need some assistance with daily activities, but still value their independence. This assistance could include help with medication management, bathing, dressing and meal preparation, among other tasks.
Benefits of Assisted Living
Assisted living allows seniors to live independently while providing a sense of community. Residents of these communities can enjoy active social lives with opportunities for group activities and events. At the same time, residents and their families have peace of mind knowing extra help is available when needed.
Who is a Good Fit for Assisted Living?
Assisted living is ideal for seniors who are mostly independent, but require some assistance to complete daily activities more easily. It still puts a premium on your autonomy, while providing the extra support as needed.
What is Nursing Home Care?
Nursing care, also called skilled nursing care, provides around-the-clock care to seniors with more complex health needs. Skilled nursing covers both medical and personal care, including medical treatments and physical therapy.
Benefits of Skilled Nursing Care
The primary advantage of skilled nursing care is the level of medical care available. Senior communities have medical professionals on staff at all hours to manage complex medical conditions. They also offer a secure environment for those with severe cognitive or physical conditions that require monitoring to ensure a community member's safety.
Who is a Good Candidate for Skilled Nursing Care?
Skilled nursing care is best suited for individuals with significant health issues requiring constant care or attention. If your loved one has medical needs or cognitive issues that require specialized knowledge to manage, a nursing home may be the best option.
Living in a Nursing Home: Myth vs. Realities
Dispelling myths surrounding nursing homes is essential to make informed decisions about skilled nursing care. Here are the realities behind four common nursing home myths.
Myth: Skilled nursing is for people near the end of life.
Reality: Skilled nursing communities can assist those who need 24/7 medical assistance, but this care can be short or long-term. Care here is designed to foster as much connection and enrichment as possible while taking one's needs into account. 
Myth: Living in a nursing home leads to isolation.
Reality: Skilled nursing communities are just that—communities. To the extent possible, residents are encouraged to interact with others and spend time nurturing their interests.
Myth: Nursing homes offer substandard care and services.
Reality: Skilled nursing communities are strictly regulated, and many offer premium service options like chef-inspired dining options and wellness programs.
Myth: There's no freedom in a nursing home.
Reality: Skilled nursing communities respect personal freedom, providing assistance as needed to promote independence to the fullest extent possible. Visitors are always encouraged.
Connect with Your Peers at Abbey Delray South
Abbey Delray South is the perfect place to create a fulfilling retirement experience. Located in Delray Beach, Florida, our senior living community offers a wide range of services, amenities and activities that allow community members to continue to grow and connect with other like-minded adults.
Want to learn more about everything Abbey Delray South has to offer? Contact us today to speak with a helpful member of our team.