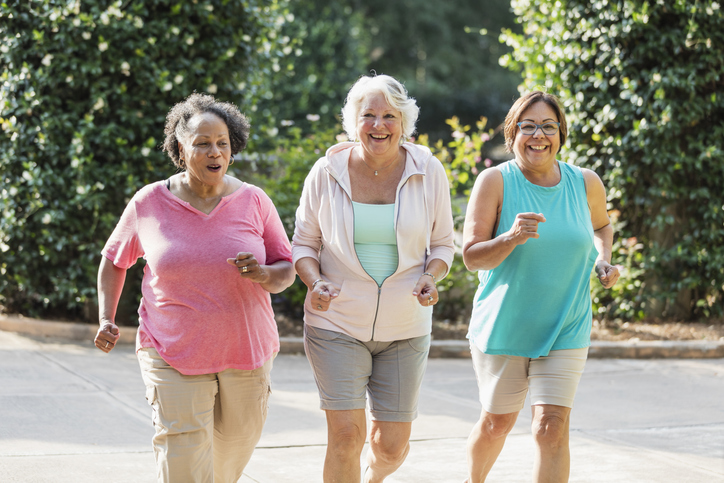 7 Summer Safety Tips for Seniors
The temperate winters and balmy summers of southern Florida have made it a popular retirement destination for older adults. The Floridian summer season, with its longer days and higher temperatures, offers numerous opportunities for fun, socialization and relaxation. 
However, it's important to remember that intense summers like those in Florida can pose a unique danger to seniors. That said, with a little planning – and taking the right precautions – one can reduce the risk of heat-related illnesses as the weather heats up. 
Why Summer Heat Poses Risks for Older Adults
It's estimated that about 1,300 people a year die of heat-related causes in the United States, and this number continues to rise as extreme weather events increase. 
Older adults are especially at risk for heat-related illnesses. Over 80% of heat-related deaths occur in adults over 60. This is because our physiology changes as we age, increasing our sensitivity to heat and humidity while reducing our sensitivity to thirst. Poor circulation and a higher occurrence of chronic conditions in older adults are also risk factors.  
Tips to Stay Safe This Summer
Stay Hydrated
Hydration is key to preventing heat-related illnesses. Even if you don't feel thirsty, your body needs at least eight glasses of water, juice or decaffeinated tea each day. If you are engaged in vigorous physical activity or are outdoors in very hot weather, your hydration needs will increase. Also, try to avoid alcoholic or caffeinated beverages during this time, as these can dehydrate you.  Remember that if you're over the age of 60, you may not feel thirsty even if dehydrated. 
Remain Indoors During Extreme Heat
Extreme heat is defined as a period of heat and humidity where temperatures are above 90 degrees. Many parts of Florida experience roughly 60-100 days a year where temperatures soar above 90 degrees. During these days, it's best to stay indoors or under shelter in order to stay cool. If you absolutely must go out, protect yourself from the sun with sunscreen, wear a hat and try not to stay out in the open for long periods. Schedule any strenuous activities for the early morning and later in the evening. 
Find or Create an Air-Conditioned Space
We all enjoy spending time outdoors, especially when the weather is sunny and warm. However, it can be easy to overheat when you leave the air-conditioned comfort of your home. Regularly seek out air conditioned spaces to take breaks when you are engaging in outdoor activities like swimming, biking or walking. Or, take your activities indoors when possible. 
Wear Appropriate Clothing
When the weather warms up, our first instinct may be to dress in short pants and short-sleeved shirts. However, this attire can leave our skin vulnerable to the sun. Instead, wear loose clothing that's made of breathable fabric like linen or cotton. Also choose clothing in lighter colors, as darker colors like black and deep blues will absorb the sun's heat instead of reflecting it.  
Understand Potential Side Effects of Prescriptions 
Several types of prescription drugs can cause a sensitivity to light. This includes many common medications, like certain antibiotics and antihistamines. These drugs can make you more susceptible to sunburn and subsequently, other heat-related illnesses. 
Be Watchful of Heat Stroke  
Heat stroke can occur gradually or suddenly. It arises when the body is no longer able to control its core temperature, which then increases rapidly. One's body temperature can rise to a dangerous 106F or more in as little as 10 minutes. Warning signs include lethargy, nausea, headache, excessive tiredness, rapid pulse, dizziness and confusion. One can easily become disoriented as the condition worsens. If you begin to experience these symptoms, immediately seek a cool, shaded area and hydrate. 
Stay in Contact with Friends and Family 
During extreme weather events, ensure that you are staying in touch with family and friends. Have a list of emergency contacts available on your phone so they can be easily accessed if you find yourself in need of assistance. If you are a caregiver to an older adult, check in with them at least twice a day when temperatures begin to soar. 
Safety is a Priority at Abbey Delray South 
Abbey Delray South is a premier retirement community in Delray Beach, Florida where we provide our residents with a comfortable and connected lifestyle. Safety is a priority here, where the health and enrichment of our residents is supported by resort-style amenities and a calendar of life-enriching programs and activities.  
Contact us to schedule a tour and experience Abbey Delray South for yourself.