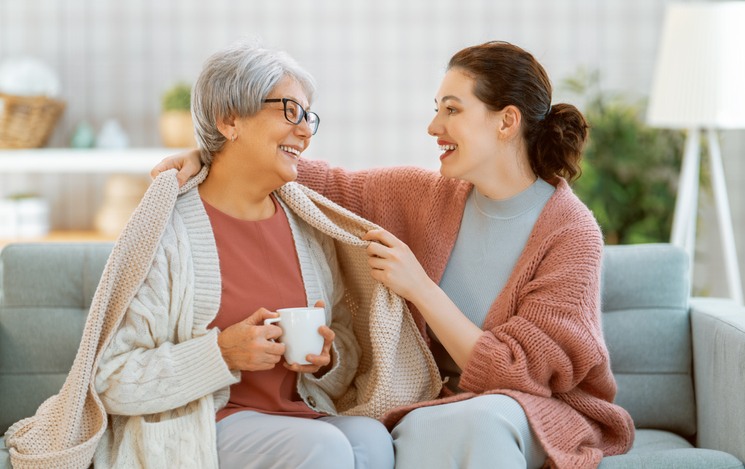 5 Tips for Seniors to Stay Healthy During Cold and Flu Season
Winter is a special time of year: seasonal food, quality time with family and fun celebrations to attend. But one thing that is not so fun during the holiday season? Getting sick. It's common for most people, especially older adults, to catch the common cold or flu during this time of year. This is due to the drop in temperature bringing us in closer proximity to people indoors, leading to the faster spread of germs. But you don't have to be resigned to getting sick during the holidays. We've curated five easy tips you can follow to stay healthy during the cold winter months.
Avoid Touching Your Face
It's natural to subconsciously touch your face throughout the day. But if you are also touching doorknobs, shared handrails or other public surfaces, your fingers can pick up cold-causing bacteria and germs left behind by others. If you then rub your eyes or touch your nose or mouth, those germs enter your body and can make you sick. That's why it's so key to avoid touching your face after using these surfaces. Wait until you have thoroughly washed your hands. 
Wash Your Hands, Use Hand Sanitizer and Disinfecting Wipes
Another way to keep germs out of your body is to consistently wash your hands with warm water and soap for at least 20 seconds. Wash the back of your hands, in between your fingers and underneath your nails. Remember to wash your hands before touching your face, eating, cooking or preparing food.  
If you don't have access to water and soap, a pocket-sized hand sanitizer is a great way to keep your hands germ-free when you are on the go. The FDA and CDC recommends alcohol-based sanitizers that contain "at least 60 percent alcohol" to effectively kill germs.  
Also use disinfecting wipes to clean surfaces and shared areas people may touch with unwashed hands. Ensure that the brand you use is guaranteed to eliminate 99.99% of germs.
Stay Hydrated
Our bodies are 60% water. The hydration in our bodies regulates body temperature, lubricates joints, flushes out waste and protects organs and tissues. Most physicians recommend drinking at least eight glasses of water to keep your body properly hydrated. 
Reusable water bottles are an easy way to drink water throughout the day. Another way to increase your water consumption is to drink water or tea with your meals. A soothing chamomile tea with your dinner entree will keep you hydrated and has even been found to have antimicrobial properties that can positively impact overall health.
Get Enough Sleep
Getting the appropriate amount of sleep can help your mind stay sharp, maintain smooth motor function and boost your immune system. When you're asleep, your body rests and recharges so it can help you live an optimal lifestyle. Lack of sleep can weaken your immune system and could result in you getting sick more often. Healthline shared a study that showed "participants who slept fewer than 5 hours per night were 4.5 times more likely to develop a cold." After an active day socializing with friends and participating in holiday events, remember to get an adequate amount of sleep so your body can relax and reset. 
Add Vitamins and Minerals to Your Diet
Vitamin C is touted as the best vitamin to help boost your body's bacteria and virus fighting abilities. However, other supplements like vitamin B6, vitamin E, minerals like calcium and magnesium can also help prevent or fight illnesses. Vary your diet to include more vitamin and mineral rich foods like spinach, tuna and asparagus. 
Many senior living communities like Abbey Delray South provide healthy eating options that can improve physical and mental health.  
Get More Wellness Resources at Abbey Delray South
At Abbey Delray South we've designed a relaxed, connected and engaged retirement lifestyle to help our residents stay healthy all year round. Our premium onsite health services cater to a variety of our residents' health needs. Contact us to learn more about our wellness best practices or schedule a tour to see for yourself what living here is like.