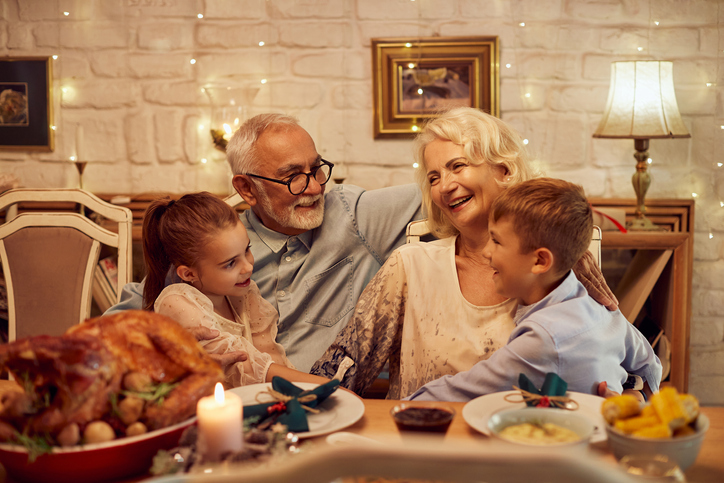 5 Holiday Activities to Enjoy with Grandchildren in Delray Beach, Florida
Spending time with grandchildren is a precious way to bond and create memories. The holiday season is a perfect time to do this. If you live near or around Delray Beach or are thinking about moving there soon, there are numerous holiday activities you can enjoy with your grandchildren in Delray Beach. Discover the thrilling activities that will keep your grandchildren entertained during their winter vacation. 
Cook a Holiday Meal 
The best way to create memories and build lasting traditions is to cook together. If you're the family chef, involve your grandchildren in the cooking experience. It's a wonderful way to spend quality time and teach your grandkids essential life skills.  
Our residents love to cook and host parties in their spacious residences or host a gathering in one of our private dining rooms.  
Watch a Holiday Classic 
Movies are a great way to bond with grandchildren, and there are a multitude of classic holiday films to explore. For younger children, ask them engaging questions so they focus on the movie and are excited to discuss after watching.
Some questions you can ask:
Who is your favorite character in this movie? Why?

Why do you think [character name] did [action]?

How do you think [character name] felt when [event] happened?
For adolescents, have them choose the movie and offer to make popcorn or another delicious snack. Discuss the movie after watching and make recommendations for other movies they might like. Watching films together can inspire your grandchildren to foster their love of film. Who knows, your holiday watching parties could inspire them to become the next Steven Spielberg!    
Plan a Holiday Scavenger Hunt
Scavenger hunts aren't just for spring and summer. Holiday-themed scavenger hunts are another fun thing to do with grandchildren. Hide ornaments, gifts, candles and other holiday items for your family to find via clues and riddles. If you live in a senior community like Abbey Delray South, ask your friendly neighbors or staff to join in on the fun. This will make the community feel more inviting and connected. 
You can also take the scavenger hunt outdoors, because the weather in Delray Beach during the holidays is extremely mild. There are many outdoor activities to do with your grandchildren in Delray Beach from the Morikami Museum and Japanese Gardens to the Silverball Museum. Create clues for your grandchildren to find an exotic flower in the garden or a specific vintage pinball machine at the museum. Scavenger hunts are a fun way to explore the neighborhood.
Stroll Down Atlantic Avenue
Atlantic Avenue is one of the most popular areas of Delray Beach. It's home to unique boutiques, popular restaurants and countless events throughout the year. During the holidays, Atlantic Avenue hosts many holiday parades for locals and tourists to enjoy. Whether your grandchildren love shopping, dining or parades, Atlantic Avenue is the perfect place to spend the holidays.   
Attend Local Holiday Concerts and Events
Take advantage of seasonal concerts, plays and parties in and around. Delray Beach. This area is known for hosting fun holiday events during the season. These include: 
Christmas tree lighting

Menorah lighting

Holiday parades
Confirm the event date, time, location and ticket prices via their official websites. With so many holiday events near Delray Beach, Florida, there's sure to be something you and your grandchildren can enjoy together.  
Explore this Holiday Season at Abbey Delray South
Create memorable holiday traditions with your grandchildren at Abbey Delray South. We celebrate the holiday season with exciting activities, delicious food and family-friendly events. And it's not just the holiday season we celebrate. All year, we curate exciting lifestyles for our senior residents. Contact us to learn more about life at Abbey Delray South.